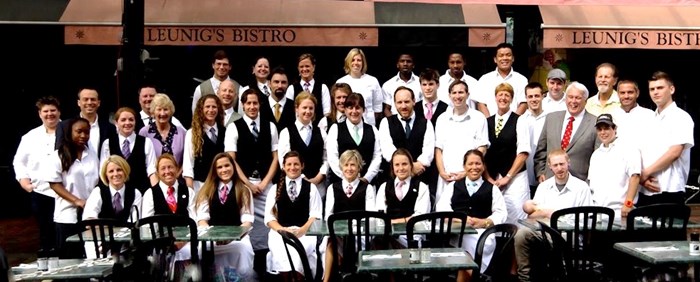 We're dedicated to great food, great times & giving back.
Leunig's Bistro first opened its doors in 1980 as Church Street's premiere coffee shop and cafe. The cafe proved an instant hit among Burlington's original hipster crowd- serving local artists, business professionals and youth alike. The bar echoed with the sounds of the espresso machine and Edith Piaf and transported customers back to old world European cafes.

While much has changed since the early days, Leunig's Bistro remains the place see and be seen and is considered one of the best restaurants in Burlington. Guests immediately enter the hustle of the Bistro and find themselves in the middle of a Parisian cafe. Now a full restaurant, Leunig's serves thousands of locals and tourists alike, seven days a week, 363 days each year with the "Panache of Paris and the Value of Vermont."
Onner and Executive Chef Donnell Collins constantly work to better the guest experience. Chef Donnell and her talented crew whip up spectacular seasonal menus that tantalize guests' taste buds with local ingredients.
Community Involvement
Our charitable donations are primarily to local institutions that improve the lives of our neighbors. We donate Gift Certificates to health organizations, arts organizations, and educational organizations, and other miscellaneous organizations because all of these endeavors improve the life of the Champlain Valley.
Besides our gift certificates, our chef & owner, Donnell Collins, has given herself as an auction item for the March of Dimes, Home Share Vermont, and RU12. People have donated to these organizations at their auctions for the prize of having Donnell and her crew prepares and serves multi-course meals in the winner's home for six to ten guests.

We also carry The Cancer Center Of Vermont in high regards as hundreds of Leunig's regular guests and own loved ones who have been touched by this disease. Each September and October, we donate based on wine sales, and host an annual wine dinner and fashion show to support the center. To date over $225,000.00 has been donated.

Leunigs is a regular sponsor of the Discover Jazz Festival, First Night Burlington, Burlington City Arts, and The Flynn Center for The Performing Arts.

We at Leunigs will continue to do our best to be a thriving business in Chittenden County. As long as we continue to earn the support of our favorite people, our guests, we will continue to support our community, and we invite everyone to join us in trying to make life better for all.